2100 Manchester Road, Suite 908, Wheaton, IL 60187
630-634-5050

Can I Get Divorced if My Spouse Has Dementia?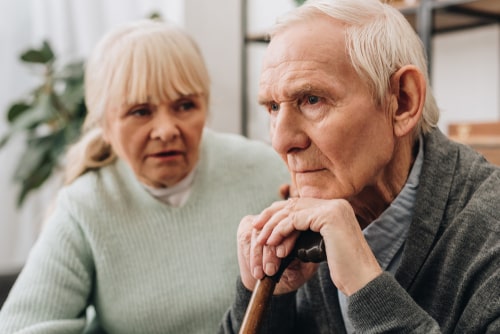 Illnesses that cause memory loss and cognitive decline, such as dementia, Alzheimer's Disease, and others, affect many Americans. While it is more common to occur after the age of 70, younger people can be afflicted as well. These diseases take a heavy toll on everyone involved, whether you have the disease yourself or a loved one does. The ways they affect someone cognitively can make it seem like your spouse is not the person you fell in love with and married.
Gray divorce, or divorce when the spouses are 50 years old or older, can have its own set of complications because the couple is typically separating after a long marriage and may have amassed more assets - or debts - than a younger couple. When one of the spouses has dementia, it can make it even more difficult to navigate. If your spouse has dementia and you are considering divorce, an experienced DuPage County, IL divorce attorney can answer your questions with sensitivity and protect your rights compassionately.
The Complications of Divorcing Someone with Dementia
Divorce is commonly considered a difficult process to go through. This is felt even more so when divorcing someone who has dementia or other cognitive diseases. There are several reasons why, including:
Legal complications: If someone has dementia and can therefore have cognitive challenges, it can be hard to understand what their best interests are. Since the person may not understand what is happening, they may also not be able to make decisions for themselves about the matters to be finalized in a divorce settlement. If they had drawn up a will before the onset of dementia, it might be possible to determine what their wishes would be in certain cases, but often, a guardian will need to be appointed by the court to advocate for their rights and interests.

Emotional complications: In some cases, a couple was happily married, but dementia changed one of the spouses' personalities and the other spouse can no longer stay happily married to them. In other cases, the couple may have already started the process of divorce and as it progressed, one spouse may have developed dementia. Even if the divorce was already something they were planning, the healthy spouse may feel guilty continuing the process while the other spouse is deteriorating mentally and may prefer dedicating their time to treatments.
Contact a Kane County, IL Gray Divorce Attorney
If you are considering divorcing someone with dementia, it is crucial that you find experienced, responsible, and compassionate legal representation to guide you through this process. A Kendall County, IL gray divorce lawyer will grasp the intricacies of your case and advocate on behalf of your rights. Please call Divorce Over 50 - Goostree Law Group at 630-634-5050 to schedule a free consultation.