2100 Manchester Road, Suite 908, Wheaton, IL 60187
630-634-5050

What Should I Know About Gray Divorce in Illinois?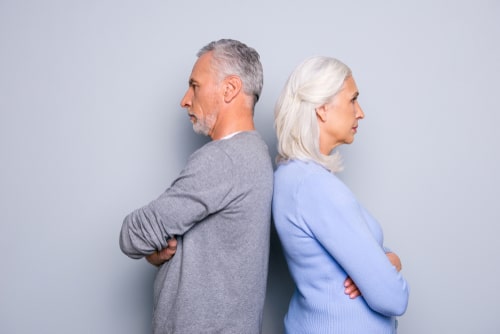 Commonly known as "gray divorce," when a couple in their fifties or older goes through a divorce, many issues come up that are unique to their specific situation. These couples are generally married for longer than younger couples and are either nearing or already into their retirement years. The financial implications of a gray divorce can be more complicated and very different from those of a divorce for a younger couple. Suppose you are in your fifties or older and considering divorce but do not know where to begin. In that case, an experienced DuPage County, IL divorce lawyer can help clear up some of the confusion and explain how you can help protect your financial future.
Common Aspects of Gray Divorce
Gray divorce happens when a married couple with spouses who are 50 years old or older decides to get a divorce. It differs from divorce for younger couples for several reasons:
Older couples tend to have had a longer marriage than younger couples. This means they have generally amassed more marital assets and property (including cars, apartments, art, and jewelry) than younger couples.
Older couples are nearing their retirement years or are already retired. Many people throughout the country have their pension and insurance provided by their spouse's employer. Once the marriage is ended, questions arise about the validity of an employer providing for an ex-spouse's insurance.
Older couples typically have raised families. However, their children tend to be adults, so questions of parental rights and responsibilities and child support payments are generally irrelevant in these cases.
While the above are common aspects that you typically see in a gray divorce, another one is the fact that poor planning can lead to bad financial decisions. Once an older couple is ready to get divorced, they may feel impatient to finalize it to put the marriage behind them. However, this can lead people to rush into settlements they would not have considered had they taken the time to review everything carefully.
Unlike a couple married for only a few years where trust has not been built up, and there could be more suspicion, a spouse from a long-term marriage might simply accept what is being presented by the other side when proper due diligence could bring to light hidden credit card debt or business debt.
Another issue where people who have been married for years might have a misstep is that of asset division. After a family home, retirement assets are generally the second largest category of assets. You could be liable for significant penalties if you do not split your retirement assets following federal law. To make sure things like an Individual Retirement Arrangement (IRA) or Simplified Employee Pension Plan (SEP) are divided properly, you will need a Qualified Domestic Relations Order (QDRO). There are other assets for which it might be hard to calculate their value, but the tax implications could be considerable.
Contact a Kane County, IL Gray Divorce Attorney
If you are 50 or older and are considering divorce, you must speak with a knowledgeable Wheaton, IL gray divorce lawyer to ensure you protect your financial future. Please call Divorce Over 50 - Goostree Law Group at 630-634-5050 today to schedule your free consultation.